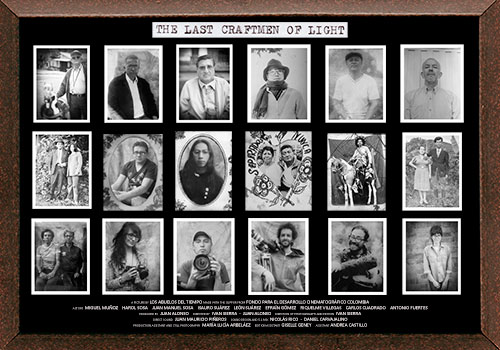 THE LAST CRAFTMEN OF LIGHT
Juan Alonso + Ivan Sierra
HD Video, 52 min, 2013

WINNER OF STIMULUS PRICE IN THE CATEGORY OF "DOCUMENTARY PRODUCTION", Fund for the Cinematographic Development Colombia, Bogotá, Colombia, 2011
PRIZE OF DOCUMENTARY SCREENING. District Arts Institute, IDARTES, Bogotá, Colombia, 2013
PRIZE BEST INTERNATIONAL DOCUMENTARY, PASTO INTERNATIONAL FILM FESTIVAL, PASTO, COLOMBIA, 2015
HONOUR MENTION "ACKNOWLEDGMENTS OF SHORT FILMS AND. FICTION FILMS, DOCUMENTARY AND ANIMATION FOR THEIR DISSEMINATION IN PUBLIC LIBRARIES, Culture Ministry, Colombia, 2018.

Their grandparents were errant photographers. Their cameras were magic boxes out of which they drew paper portraits that promised to preserve the innocence of the son, to catch the beloved one, to perpetuate a grandfather, to hunt a piece of time. But the whole picture, sooner or later, is the picture of a dead man, and errant photographers slowly extinguished themselves, their cameras disintegrating by the effect of the chemicals of their work, their occupation fading out with the arrival of new cameras that needed no longer of their hands and their alchemy. Only three of them still remain, standing up, aiming the cameras of their grandparents, getting out of the box the portraits of dead men, moving manually the numbers of the deadline of the expertise they inherited and which they do not want to see departing definitely. This is their portrait.
The 52 min. version has its premiere at the Distict Cinema in Bogotá and has been presented at Oseón Space and Lugar a Dudas (Cali). The documentary has been presented also at the Official Selection in:ç
- 32 Bogotá Film Festival, Bogotá, Colombia, 2015.
- 11 Pasto International Film Festival, Pasto, Colombia, 2015.
The 25 min version has been presented at the Official Selection in:
- Popayán Short Film Festival, Popayán, Colombia, 2015.
The 4 min version was the national short movie in the whole country in Cinemark Colombia, from 1 to 15 June and from 16 to 30 July.